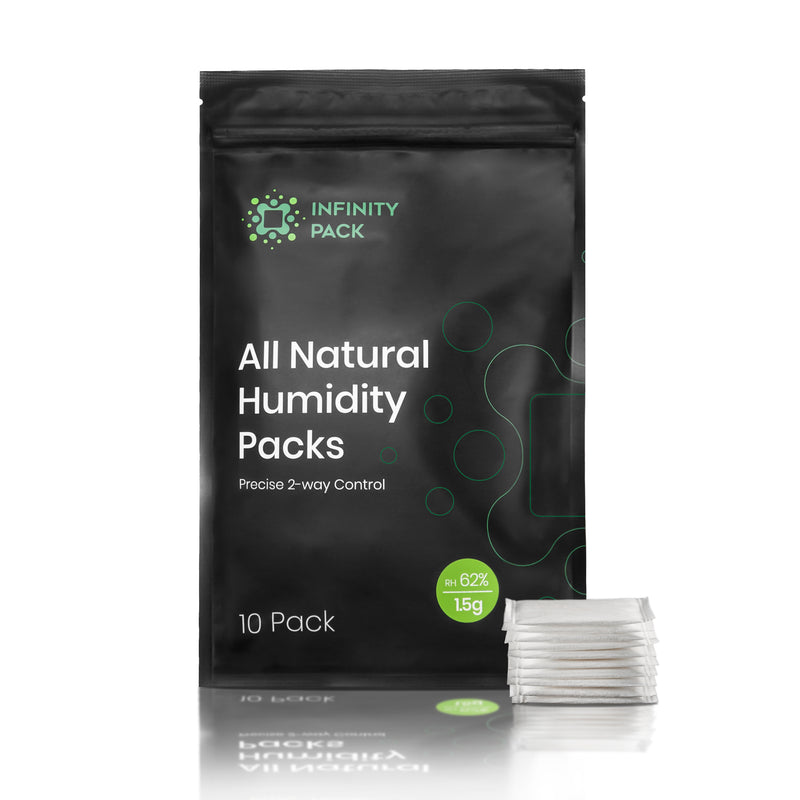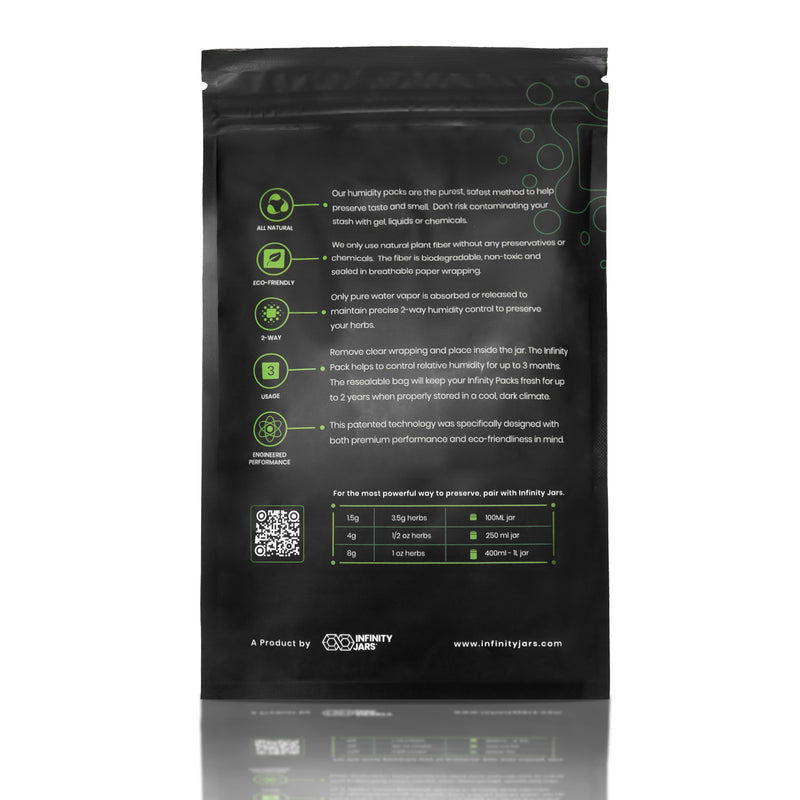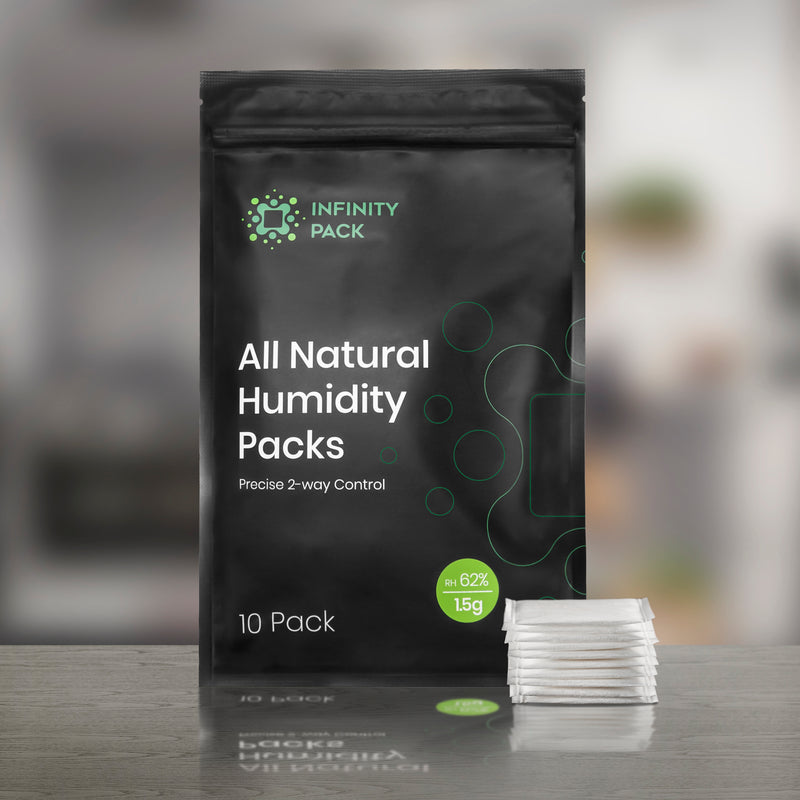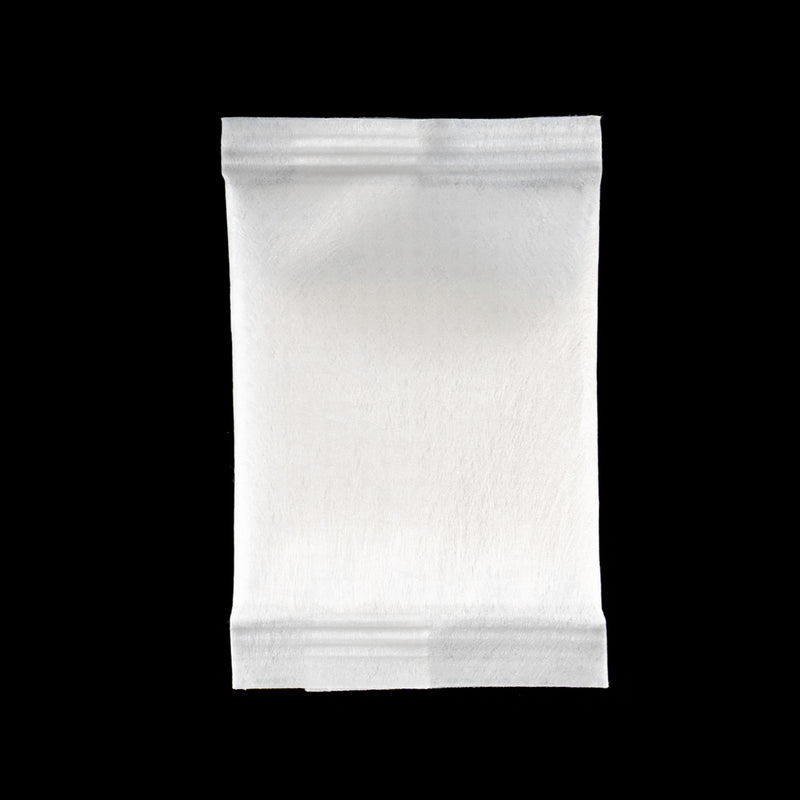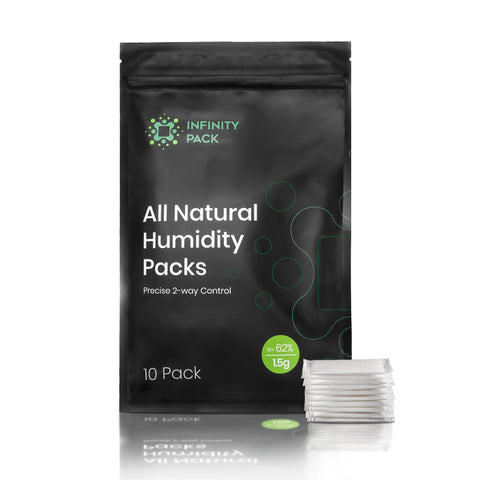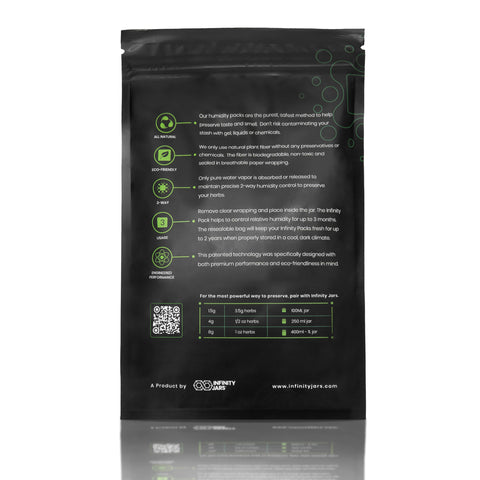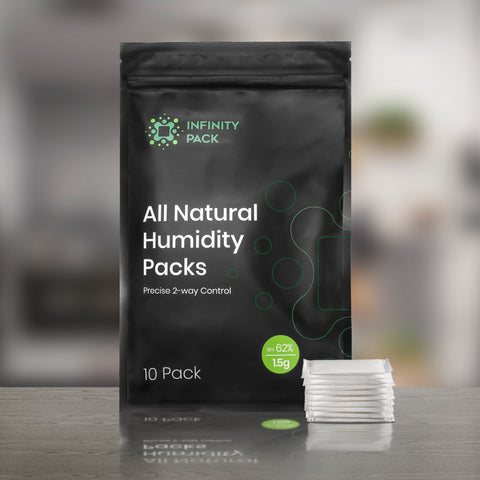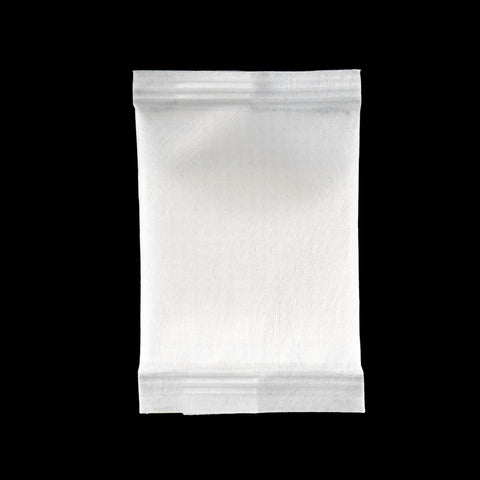 All-Natural

Our humidity packs are the purest, safest method to help preserve taste and smell. Don't risk contaminating your herbs with gel, liquids or chemicals.
Eco-Friendly

We only use natural plant fiber without any preservatives or chemicals. The fiber is biodegradable, non-toxic, and sealed in breathable paper wrapping.
Engineered Performance

This patented technology was specifically designed with both premium performance and eco-friendliness in mind.



Humidity Packs with Patented Plant-Based Technology
When it comes to herb storage, too much moisture causes mold, while too little leads to dryness. Achieve the right amount of humidity in the purest way possible with the Infinity Pack 1.5g, 62% RH. Engineered for premium performance, this humidity pack is your best solution for storing and curing up to 3.5 g (0.12 oz) medicinal herbs.
Infinity Pack proves that it's possible to preserve perishables without the use of artificial preservatives. Made of several layers of all-natural plant fiber, this humidity pack gives you a way of maintaining freshness without contaminating your product with salt, gel, silica, and other chemicals. In other words, it offers a win-win solution for you and the environment
With precise two-way humidity control technology, Infinity Pack absorbs and adds only pure water vapor to maintain a 62% relative humidity level. Its ability to create a clean and balanced environment makes it ideal for keeping natural medicine, tea leaves, dried fruits, and other kitchen ingredients fresh for longer.
Besides its 100% plant-based design, Infinity Pack is unprinted so that no ink will ever stain your precious herbs. Place your herbs in an airtight, light-filtering 100 ml jar, slip this 1.5 g humidity pack in the jar, and have the most powerful storage solution combo.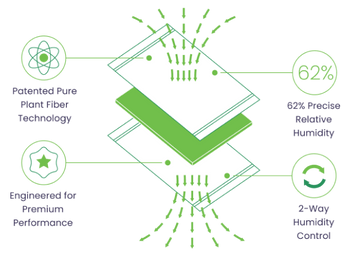 Precise 2-Way Humidity Control
Remove clear wrapping and place inside the jar. The Infinity Pack helps to control relative humidity for up to 3 months. The resealable bag will keep your Infinity Packs fresh for up to 2 years when properly stored in a cool, dark places.
Infinity Packs Comparison Chart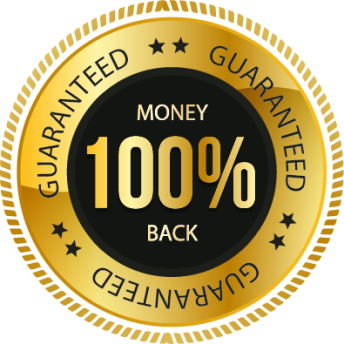 30-DAY MONEY-BACK GUARANTEE
If for any reason you are not 100% satisfied, please return your Infinity Jars product(s) within 30 days for a no-questions-asked refund.