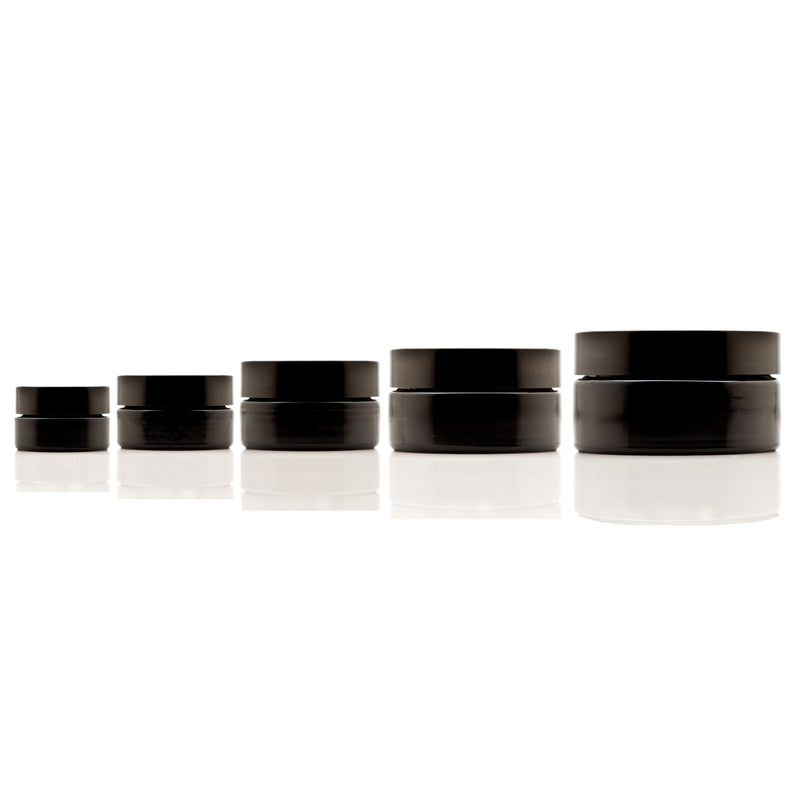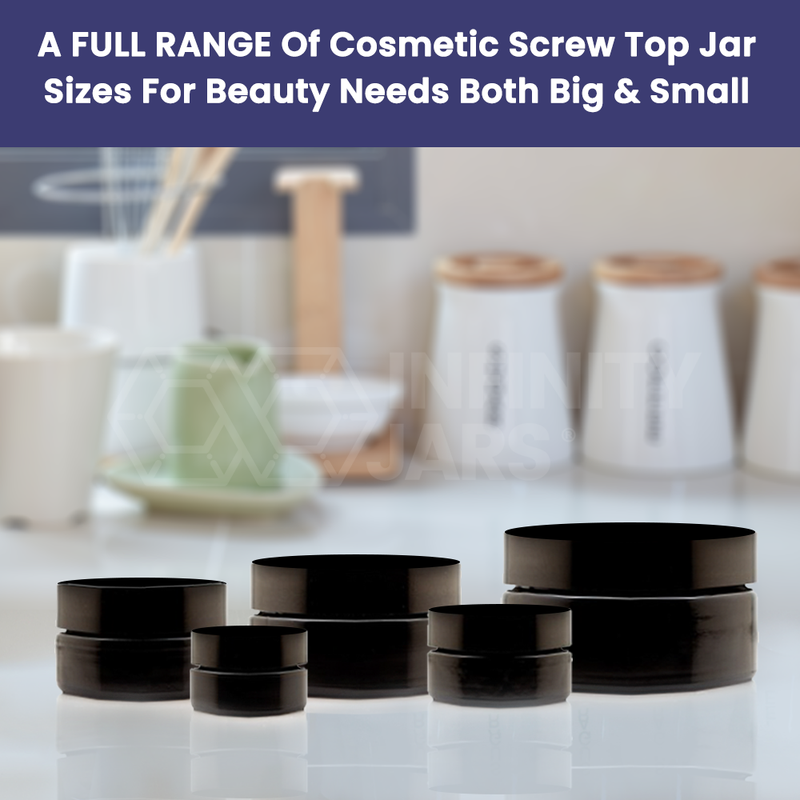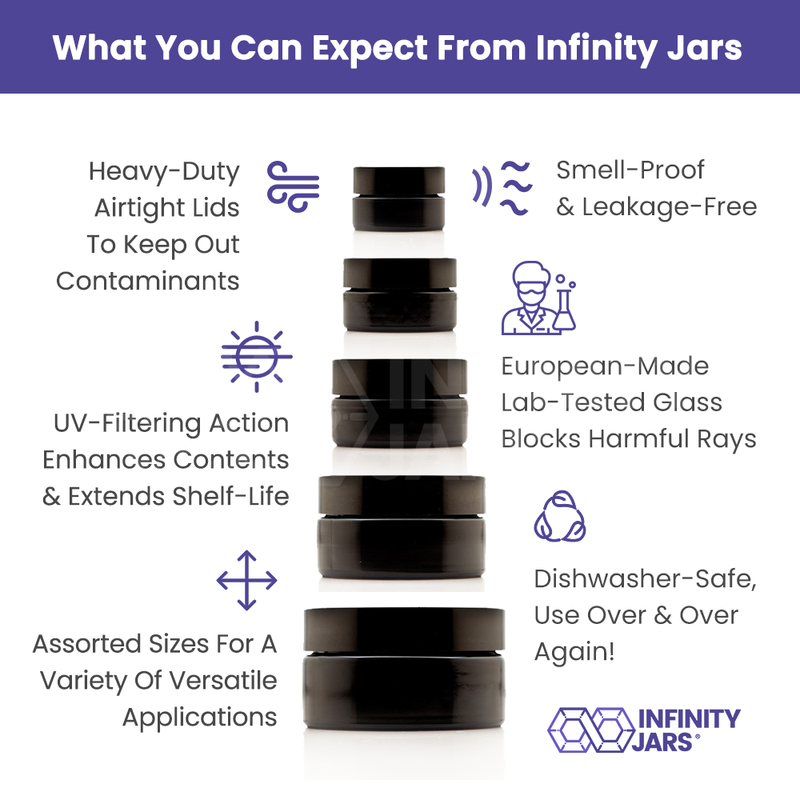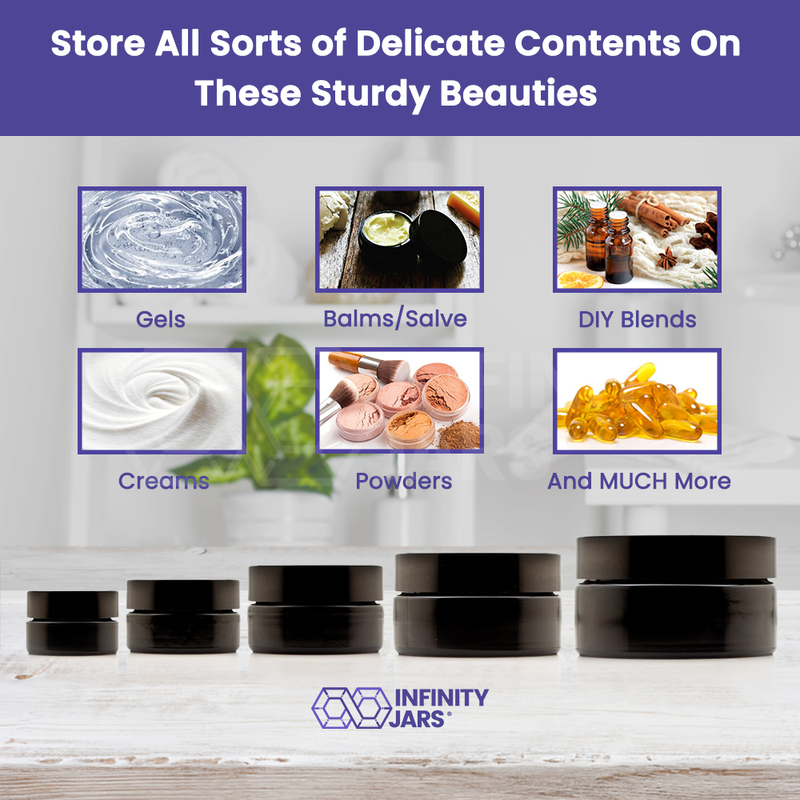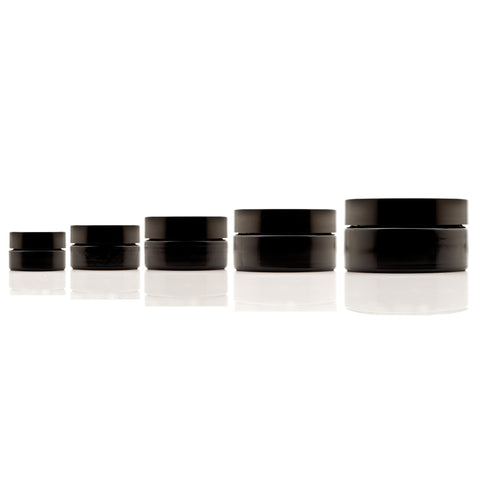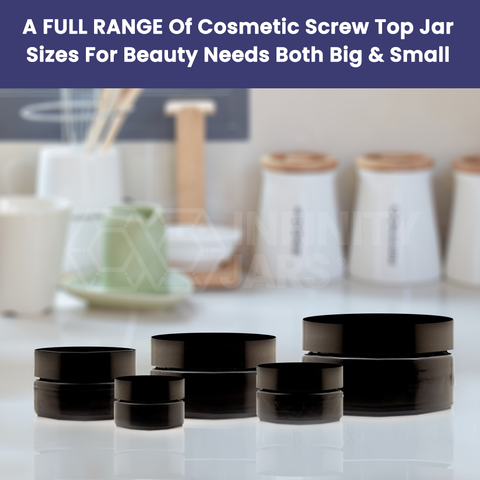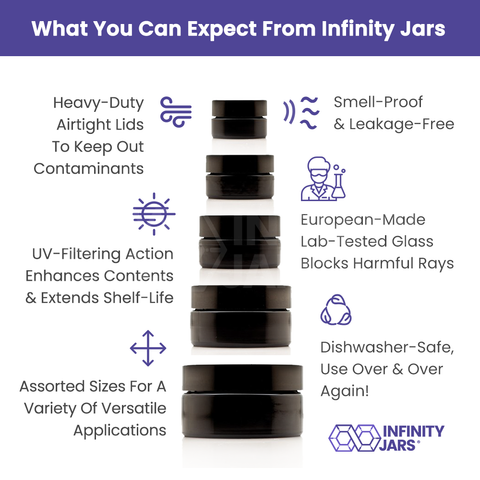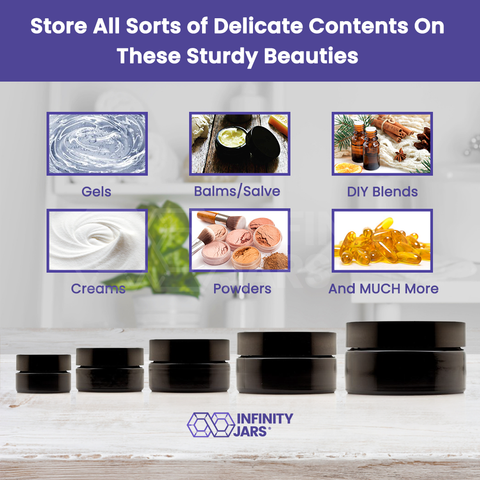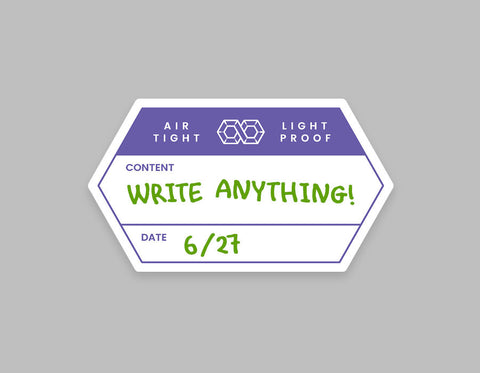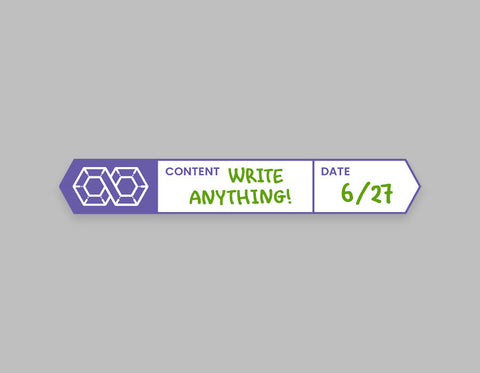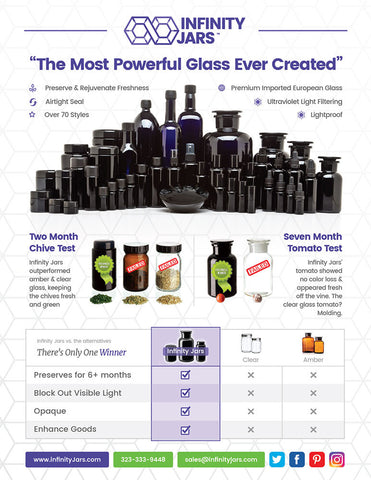 Lightproof

Lightproof Ultraviolet Glass Blocks All Visible Light Rays
Airtight

Airtight Design Dramatically Slows Degradation
Heavy-Duty

Thick European-Made Glass Designed in a Lab
Description:
Do you make your own high end cosmetics? Do you buy expensive creams in store and want to insure they last? Are you looking for the perfect gift for the make up DIY'er in your life??? Look no further than the Infinity Jars Cosmetic Screw Top Variety Pack! This variety pack consists of 5 of our ultra high end line of cosmetic jars, specially designed with a shallow bottom to maximize the amount of product that you are able to extract. The variety of sizes included in this pack means that you'll have the perfect jar for every occasion. Out on the town? Pack a 15 ml of homemade lip balm in your purse! Need a larger size for lathering the body butter you just made? The 200 ml is sure to do the trick!
What makes Infinity Jars so special? Our state of the art European designed jars combine three factors to provide superior preservation: 1.) The heavy duty plastic lid creates an airtight seal preventing any aroma from escaping and any oxygen from damaging your goods. 2.) Unlike basic clear and amber glass containers, our Ultraviolet Glass jars prevent all visible light from entering and speeding the decay of your products. 3.) Lastly, and most importantly, our Ultraviolet Glass allows UVA and infrared light to enter that combine to gently sanitize and energize your products. See for yourself the difference using Infinity Jars has on your cosmetics' potency, aroma and preservation!
Cosmetic Cosmetic Screw Top Jar Variety Pack comes with one of the following:
15 ml (.5 fl oz) Cosmetic Screw Top Jar
30 ml (1 fl oz) Cosmetic Screw Top Jar
50 ml (1.7 fl oz) Cosmetic Screw Top Jar
100 ml (3.3 fl oz) Cosmetic Screw Top Jar
200 ml (6.76 fl oz) Cosmetic Screw Top Jar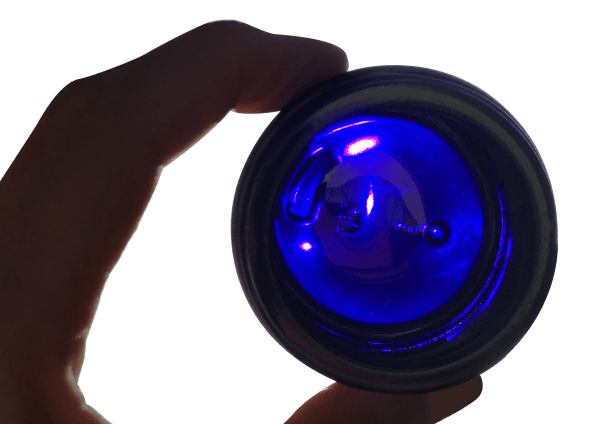 Patented Ultraviolet glass
The secret of its high-performance is in its glass pigmentation. While it looks black on the outside, it's actually made of ultraviolet glass. Ultraviolet glass blocks all harmful visible light while beneficial UV and infrared rays that extend the freshness of goods.
Infinity Jars Versus Common Jar Types
| | | | |
| --- | --- | --- | --- |
| | Infinity Jars | Clear Jars | Amber Jars |
| Preserves for 2+ Years | | | |
| Enhances Contents | | | |
| Blocks Out Visible Light | | | |
| Airtight Cap, Leak-proof | | | |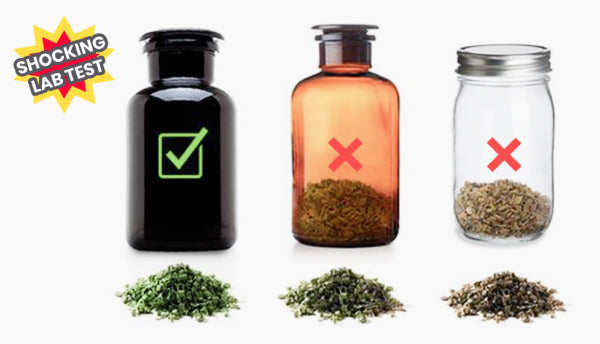 2-MONTH CHIVE TEST
The Infinity Jar clearly outperformed the other jars by keeping the chives green and fresh. Chives are among the most fragile and easily perishable herbs you can find at a grocery store.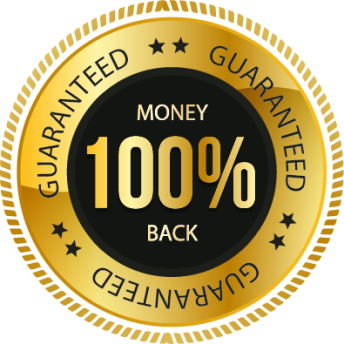 30-DAY MONEY-BACK GUARANTEE
If for any reason you are not 100% satisfied, please return your Infinity Jars product(s) within 30 days for a no-questions-asked refund.
Care Instructions
Dishwasher safe. Avoid putting the jars in the bottom rack.
Simply hand-wash the jars with soap & dry them off. Avoid extreme changes in temperature.
Individual Jars/Bottles in This Pack