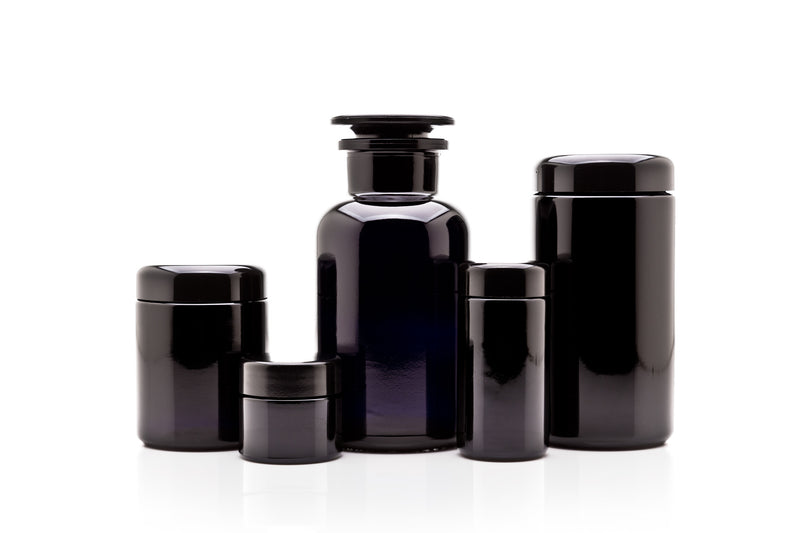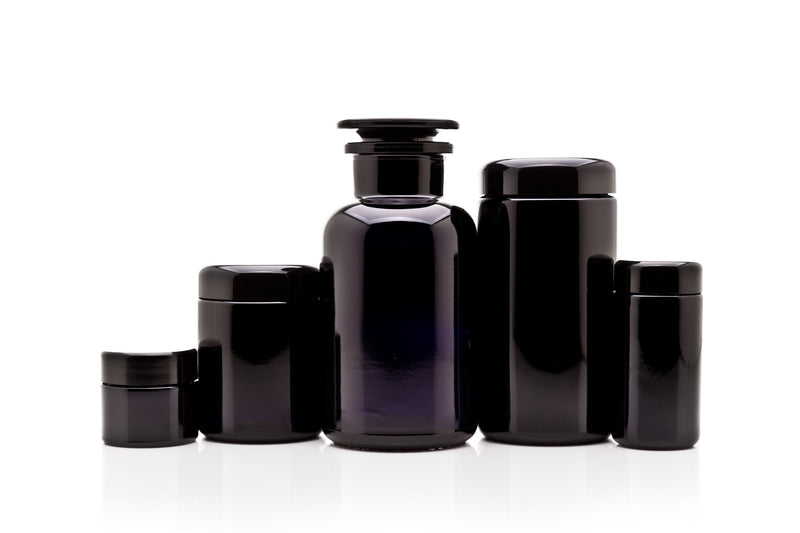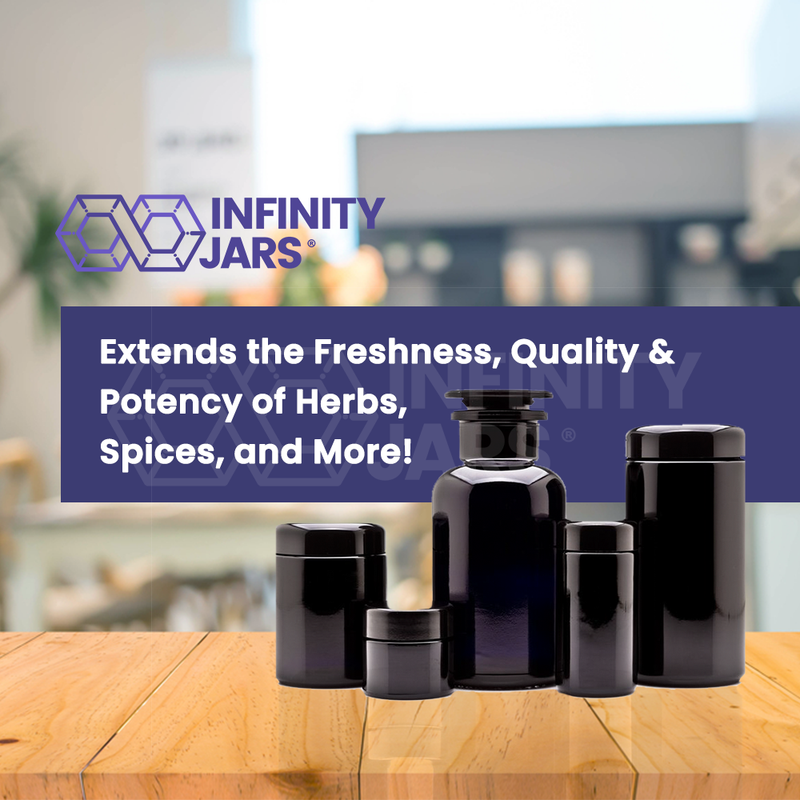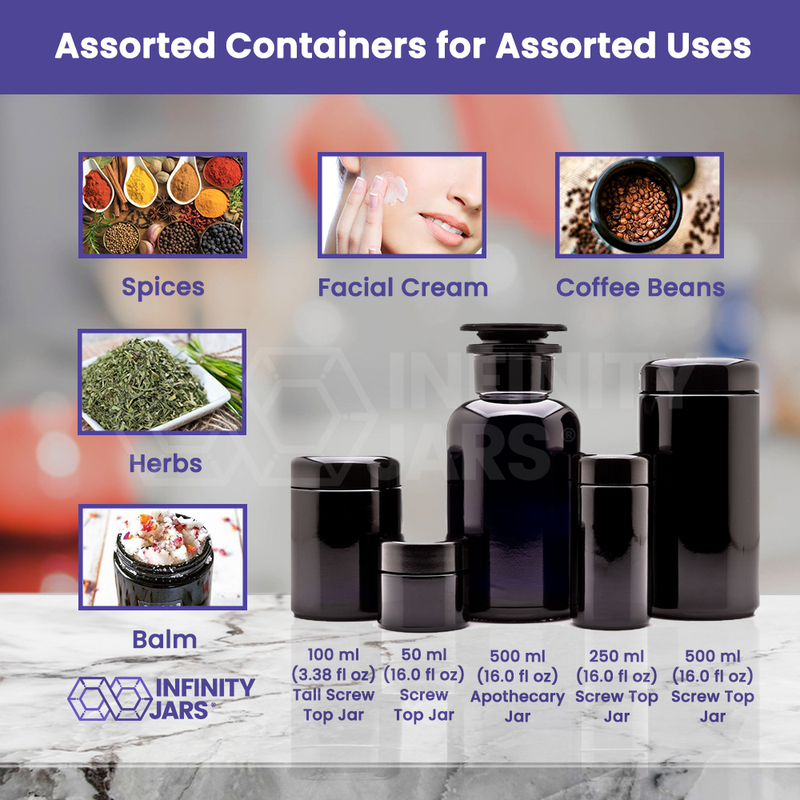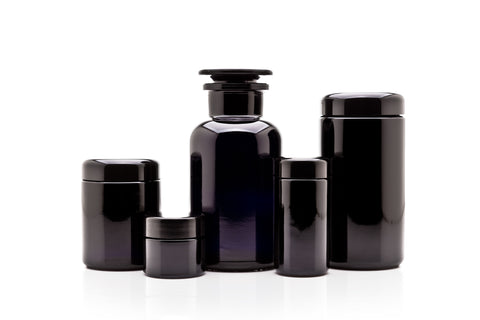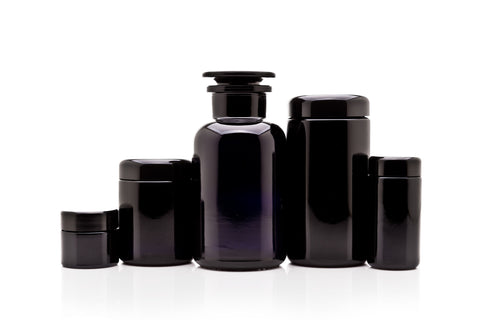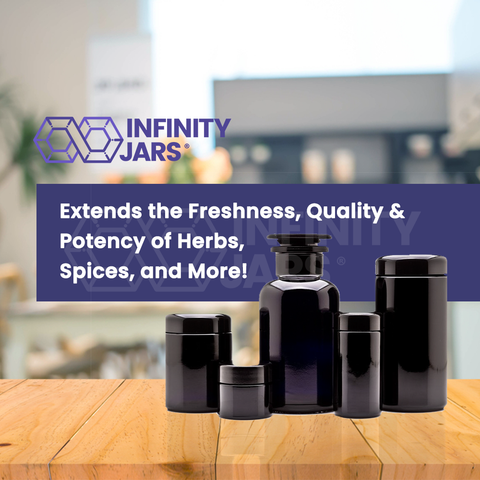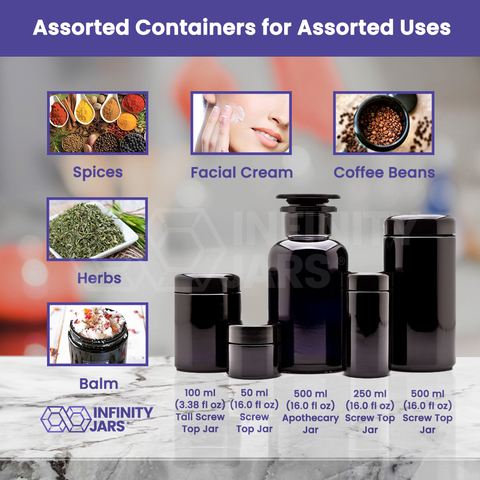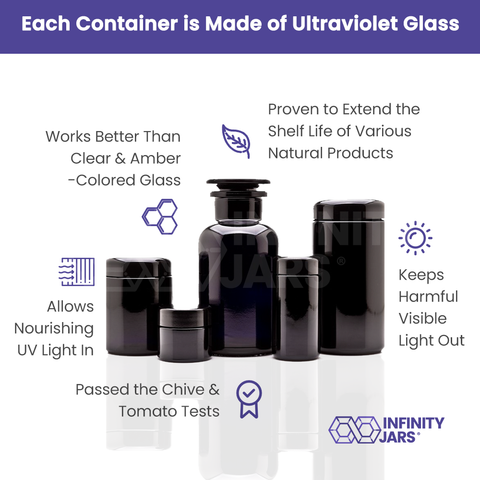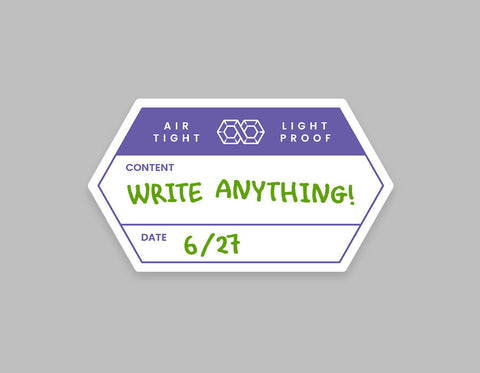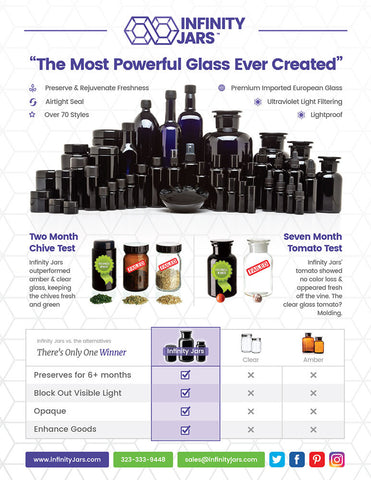 Lightproof

Lightproof Ultraviolet Glass Blocks All Visible Light Rays
Airtight

Airtight Design Dramatically Slows Degradation
Heavy-Duty

Thick European-Made Glass Designed in a Lab
Description:
This pack has something for everyone! The 50 ml, 100 ml TALL, 250 ml and 500 ml screw top jars are our best selling classics. Beautiful rich black glossy ultraviolet glass combines with modern science and practicality. The BPA free plastic lid connects perfectly with the lid top to form a solid airtight seal. In addition, this variety pack includes a 500 ml apothecary jar. Our famous apothecary jars stand out in today's market for their attention to detail, futuristic performance, class, and unforgettable elegant style. All apothecary jars have a lid design with dual functionality: as a lid and a serving glass cup.
Each jar included in this set has airtight glass-on-glass lid, thick premium ultraviolet glass optimized to block out harmful visible light yet permit organic enhancing UV-A and infrared rays. In addition, each jar has been designed to look visually stunning.
In this package you'll receive ONE of the following jars:
500 ml (16.0 fl oz) Apothecary
500 ml (16.0 fl oz) Screw Top Jar
250 ml (6.7 fl oz) Screw Top Jar
100 ml (3.38 fl oz) TALL Screw Top Jar
50 ml (1.7 fl oz) Screw Top Jar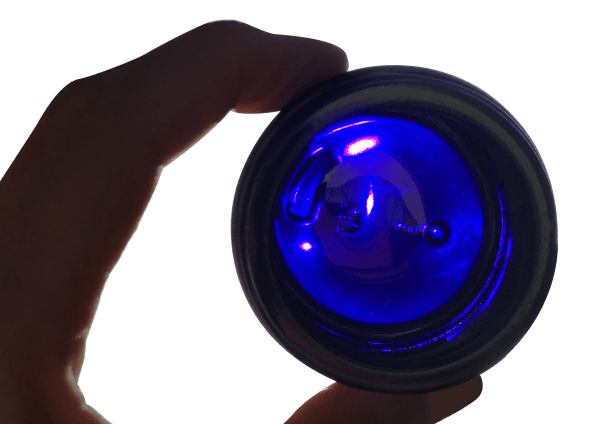 Patented Ultraviolet glass
The secret of its high-performance is in its glass pigmentation. While it looks black on the outside, it's actually made of ultraviolet glass. Ultraviolet glass blocks all harmful visible light while beneficial UV and infrared rays that extend the freshness of goods.
Infinity Jars Versus Common Jar Types
| | | | |
| --- | --- | --- | --- |
| | Infinity Jars | Clear Jars | Amber Jars |
| Preserves for 2+ Years | | | |
| Enhances Contents | | | |
| Blocks Out Visible Light | | | |
| Airtight Cap, Leak-proof | | | |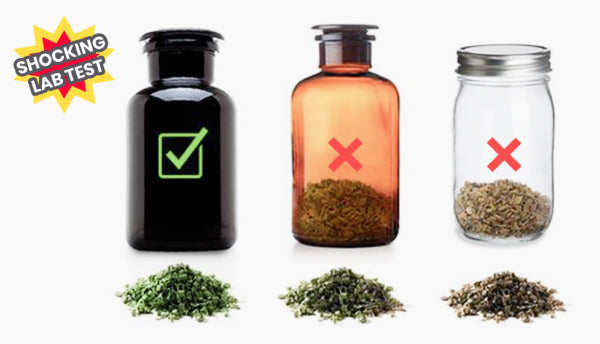 2-MONTH CHIVE TEST
The Infinity Jar clearly outperformed the other jars by keeping the chives green and fresh. Chives are among the most fragile and easily perishable herbs you can find at a grocery store.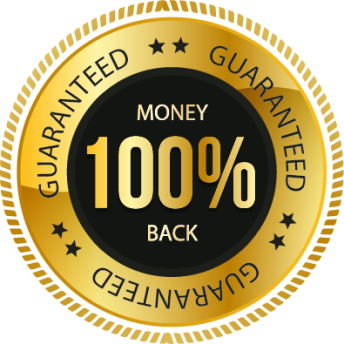 30-DAY MONEY-BACK GUARANTEE
If for any reason you are not 100% satisfied, please return your Infinity Jars product(s) within 30 days for a no-questions-asked refund.
Care Instructions
Dishwasher safe. Avoid putting the jars in the bottom rack.
Simply hand-wash the jars with soap & dry them off. Avoid extreme changes in temperature.
Individual Jars/Bottles in This Pack