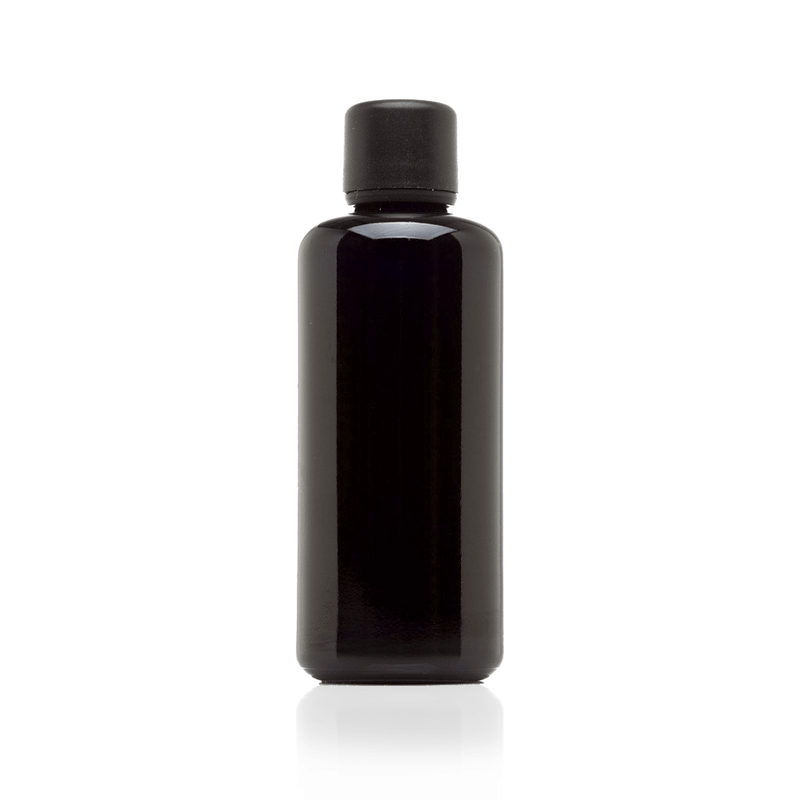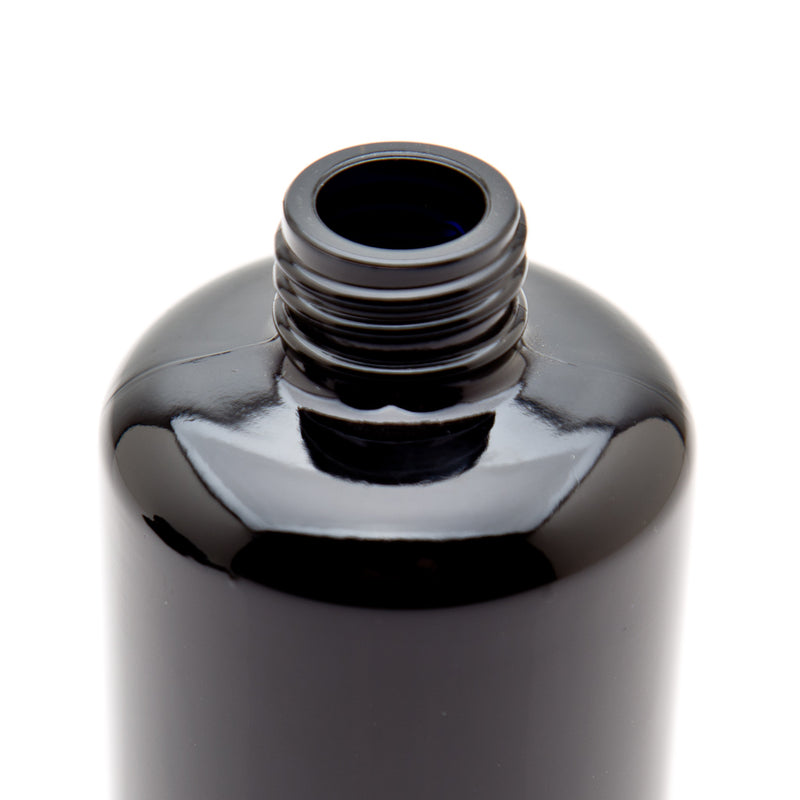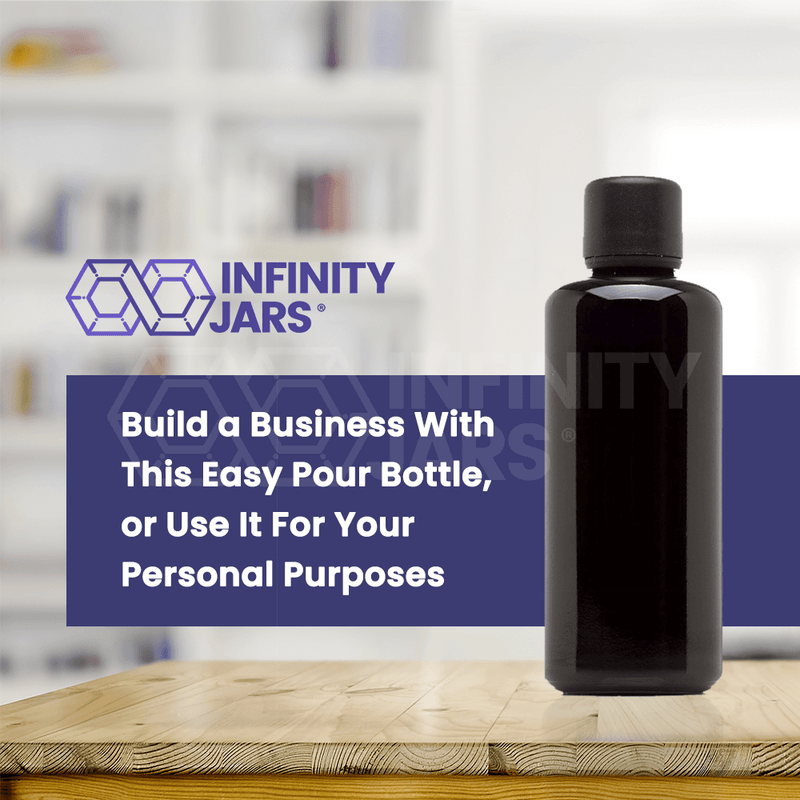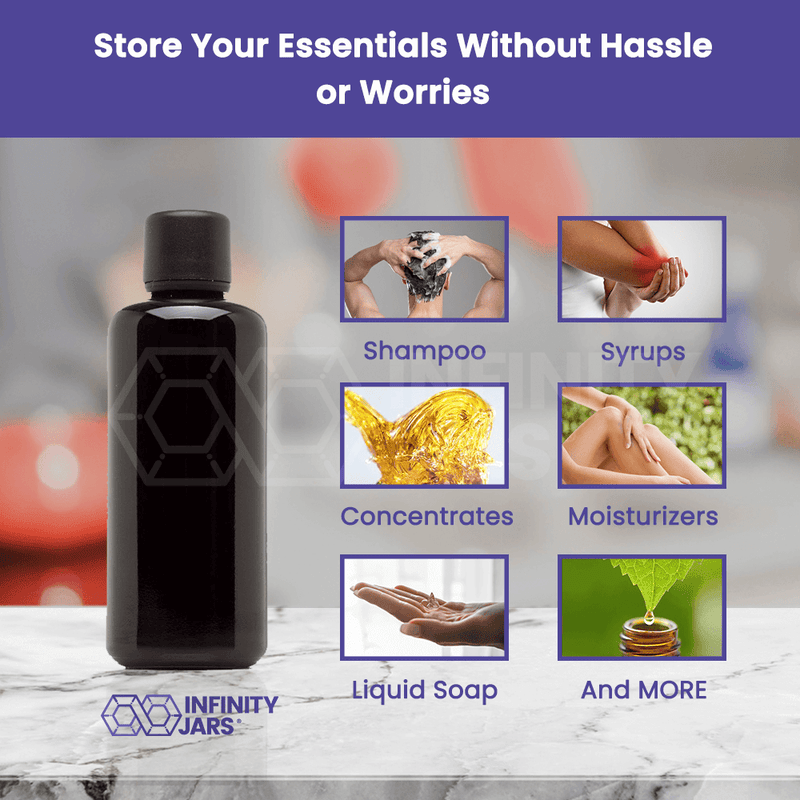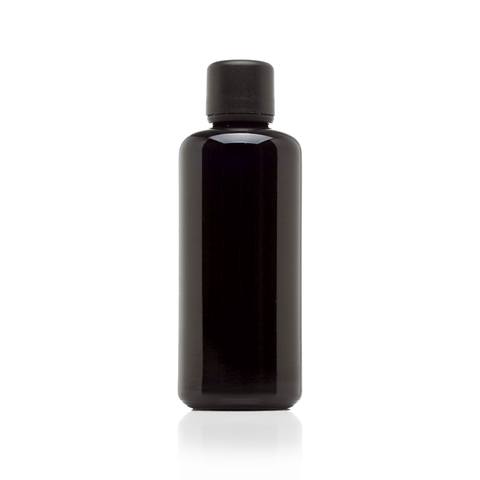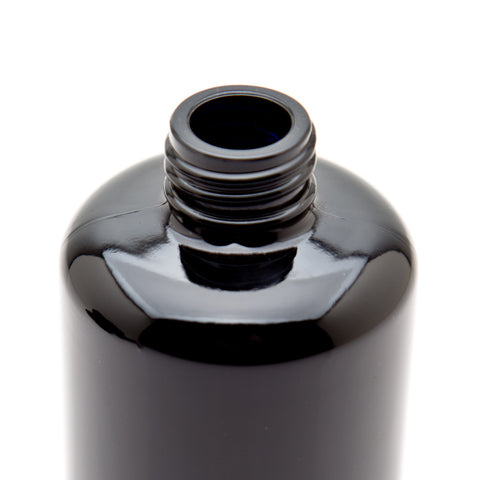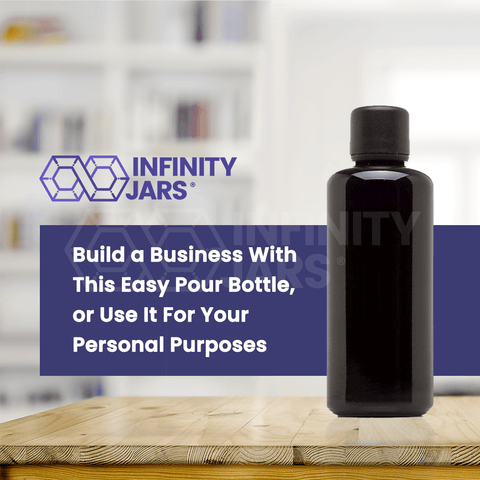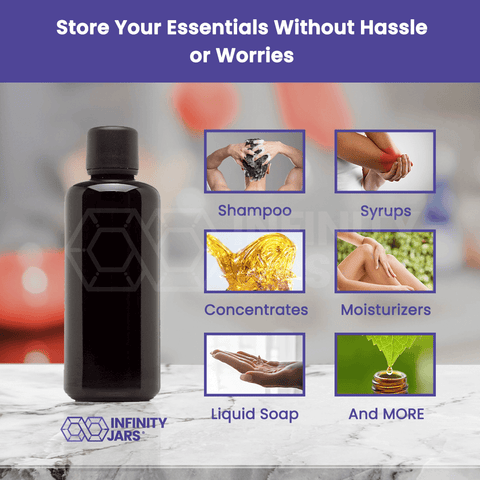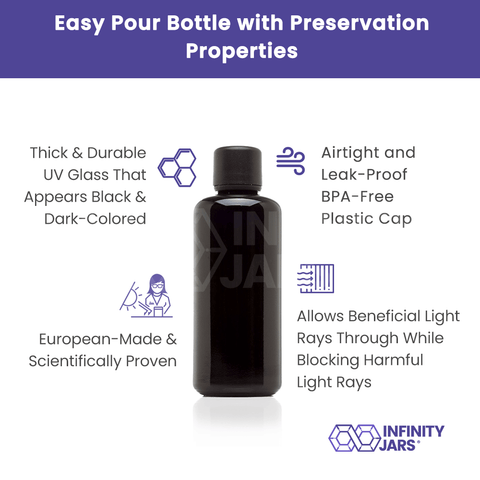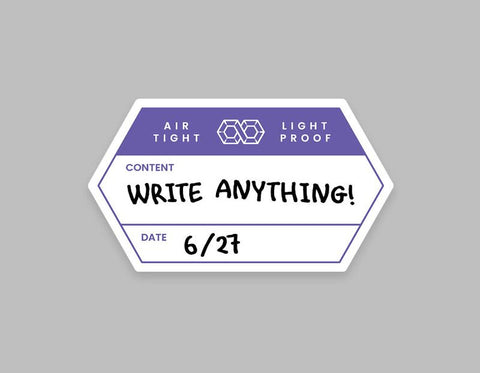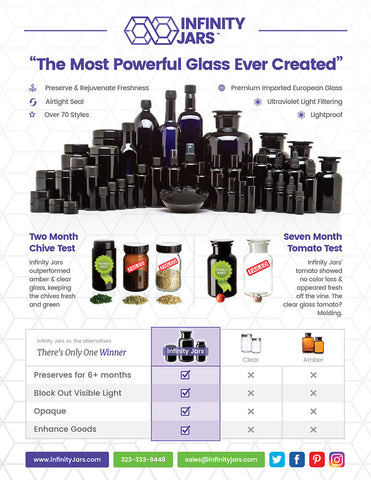 Lightproof

Lightproof Ultraviolet Glass Blocks All Visible Light Rays
Airtight

Airtight Design Dramatically Slows Degradation
Heavy-Duty

Thick European-Made Glass Designed in a Lab
Description:
Store all manner of ingredients and products in the 60 ml Easy Pour Screw Top Bottle by Infinity Jars. It may have a simpler design compared to the other bottles in our catalog, but whatever this bottle lacks, it makes up for in versatility and ease of use. This bottle is definitely worth the purchase, and you'll be able to use and reuse it for a wide variety of purposes.
Airtight and Prevents Leaks
The 60 ml Easy Pour Screw Top Bottle comes with a BPA-free plastic cap that is guaranteed to be airtight, leak-proof, spill-proof, and smell-proof. Not only can the cap keep contents in; it can also keep dirt, moisture, and other contaminants out.
It's important to make sure that any product you store is safely stashed away in the bottle, especially if you use the product in food preparation or cosmetics. Thankfully, this bottle is designed to do just that. Not only is the cap as secure as can be, the glass of the bottle itself is thick, durable, and won't break or shatter easily.
Versatile and Useful
Ths 60 ml Easy Pour Screw Top Bottle may not come with a fancy glass dispenser or a stainless steel roller applicator, but its simplicity is arguably its best and defining characteristic. Because of the way it's designed, it can be used to store a wide variety of products. It can thus be used in many different ways for many different purposes.
Perhaps you want this bottle for your own personal use. It's definitely great for storing different kinds of ingredients, cosmetics, and more. However, aspiring business owners who want to sell high-end all-natural products can also explore how they can incorporate this bottle into their operations.
Great For Traveling
You don't have to bring in full-size bottles of your products when you can just bring the right amount of product needed for the duration of your travel. This 50 ml bottle follows TSA requirements, so you can bring it with you on your flight. Freely pour in your personal or skincare essentials into this bottle and be rest assured of no spillage!
Ultraviolet Glass
UV glass is the crowning jewel of all Infinity Jars products. This glass, in a nutshell, is carefully formulated and made to be able to filter out harmful UV light rays. A type of UV light can encourage decay-causing bacteria to proliferate in biodegradable materials, so preventing this light from getting to the product is important.
That's what UV glass can do. When you store a biodegradable product in the 60 ml Easy Pour Screw Top Bottle, its shelf life can be stretched longer by up to 6 months. This is because the glass can help inhibit the spread of microbes that trigger degradation.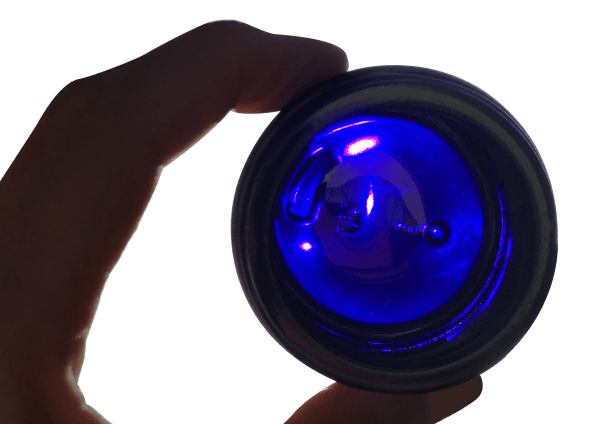 Patented Ultraviolet glass
The secret of its high-performance is in its glass pigmentation. While it looks black on the outside, it's actually made of ultraviolet glass. Ultraviolet glass blocks all harmful visible light while beneficial UV and infrared rays that extend the freshness of goods.
Infinity Jars Versus Common Jar Types
| | | | |
| --- | --- | --- | --- |
| | Infinity Jars | Clear Jars | Amber Jars |
| Preserves for 2+ Years | | | |
| Enhances Contents | | | |
| Blocks Out Visible Light | | | |
| Airtight Cap, Leak-proof | | | |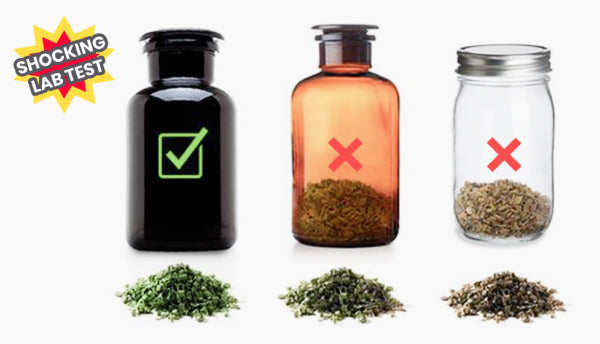 2-MONTH CHIVE TEST
The Infinity Jar clearly outperformed the other jars by keeping the chives green and fresh. Chives are among the most fragile and easily perishable herbs you can find at a grocery store.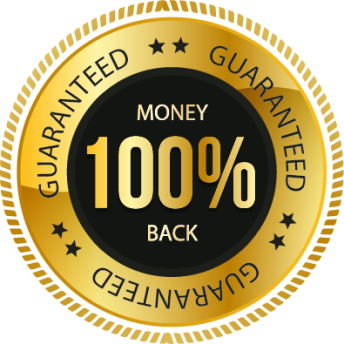 30-DAY MONEY-BACK GUARANTEE
If for any reason you are not 100% satisfied, please return your Infinity Jars product(s) within 30 days for a no-questions-asked refund.
Care Instructions
Dishwasher safe. Avoid putting the jars in the bottom rack.
Simply hand-wash the jars with soap & dry them off. Avoid extreme changes in temperature.
Other Sizes in This Style